Subscribe to Talien's Tower by Twitter, email or via the Site Feed
Monday, February 23
Frost & Fur: The Explorer's Guide to the Frozen Lands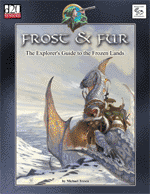 REVIEWS [out of 5]
TOTAL: 4.0
Purchase: Amazon.com or RPGNow.com
Type: Role-Playing Game (D20 Supplement)
Cover Artist: William O'Conner
Interior Artists: Alan Dyson, various
Suggested Retail Price: $32.95 (hardcover) or $16.50 (.PDF)
Format: Hardcover and .PDF
Pages: 256
Publisher: MonkeyGod Enterprises
ISBN: 0972819754
Discussion: Frost and Fur Forum
Description:
BRRRRRR!
Everyone knows the arctic can be an unforgiving terrain. But there's much more to the wintry land than cold damage and snowstorms. In Frost & Fur, players and Game Masters alike will find a wealth of information about what the arctic has to offer...and how to survive it.
Inside you'll find new rules for environmental hazards, survival equipment, and the effects of cold on skills and spells. Discover a variety of cultures, both magical and mundane, and the prestige classes, races, creatures, and spells that are an integral part of their mythology.
Frost & Fur: the cure for the common cold!
NEW: You can now buy Frost & Fur in electronic format at RPGNow.com. This revised version includes errata as notes and an appendix! Have the print version? Then download the errata.
"I love this book!" said John Grigsby at d20 Magazine Rack. "If you're seeking to establish a campaign in the frozen lands or if you're just looking for someplace interesting to send your players, this book is fantastic. The descriptions of the four real-world cultures will be invaluable to anyone who wants to base a campaign on one of them and there's just too much great info on the hazards and terrain of these climes to be ignored. If this book doesn't inspire you to turn your adventurers out in the cold, nothing will!"
Labels: writing
---