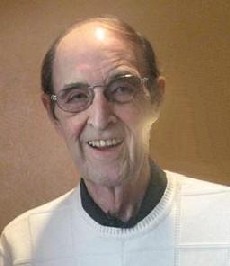 The smooth and soothing voice of Robert F. Martz has gone silent. The energy and spirit of his quick mind, his sharp wit and keen sense of the absurd have moved to another place. To know this unique man meant that you'd been forever changed by his creative genius, his sense of humor, and his sensitivity. Bob Martz knew and was a friend to many...
Born in 1932, Bob died (or as he may have said "shuffled off this mortal coil") on August 2, 2008.
For over half a century, Toledo area listeners have enjoyed tales of the world according to Martz. His multiple on-air stints and hundreds of hilarious, award winning radio commercials, written and voiced by Bob, were capable of causing multi-car pileups. Bob fondly remembers Waite High School and those wonderful Phi Kap Days at the University of Toledo.
Bob's radio career started somehow in Coldwater, Michigan. In the 1950's, for reasons he calls a preposterous series of errors. Martz joined an on-air group of talent at WTOD-AM, creating a blockbuster personality-driven radio station. Bob was the unspoken leader of a pack that included John Gary Lindemulder, Mike Zapiecki, Larry O'Brien, Michael Drew Shaw, and Bob Kelly, among others. The fun continued again at WTOD, WOHO, and WCWA, where Bob spent the bulk of his career. Early in 1980, he and Terry Shaw left radio to form a production company called, oddly enough, Martz and Shaw, whose work was heard in states as far away as Hawaii. Over the years, his personality and attitude became a powerful influence on hundreds of people, many of whom knew him by phone only.
Bob's great wit and command of the English language made every conversation a joy. His playfulness and clear view of the absurdity of life was captivating beyond description. His work was recognized with dozens of creative awards from the advertising and broadcasting industry. He received the Toledo Advertising Federation's Silver Medal Award for lifetime achievement (and for a time, considered having it bronzed), and was inducted into the Ohio Broadcaster's Hall of Fame in 2004.
Music and reading were the two things he enjoyed most. He was an erratic golfer and a decent doubles tennis player. He was both a skier and a sailor and sometimes he got the two confused. Bob was preceded in death by his wife of 50 years, Suzanne "Suzie", a great lady and revered mother of their three daughters, Amy Sarachman (Michael), Stacy Martz (Jim Dunne), and Kristen Bach (Joseph). He not only liked his three girls, but he respected them; and he loved them with an unqualified love. Bob was a sucker for little kids, so it goes without saying that he loved his six grandchildren, Rachel, Eric, Sam, Ava, Allison, and Emma. Bob will be greatly missed by his family, his dear friends, Judy and Lurley Archambeau, Mike Zapiecki, and lifelong friend, Connie Swartz.
Bob would like to thank the doctors and nurses at Hospice of Northwest Ohio, Perrysburg, especially Laurie, Mary E., and Melissa for their compassionate, loving care and great humor. What to use as an exit line? No T.S. Eliot or Ezra Pound with their gloom and doom pronunciations, but a comment he always related to his personal and professional success in life which was "not bad for a liberal arts major."
There will be a time for friends from 1-5 p.m. on Saturday, August 16, 2008, at the Walker Funeral Home, 5155 Sylvania Ave. (west of Corey Rd.). If you wish to remember Bob, please make a charitable contribution to PLAN of Southwest Ohio, 11223 Cornell Park Dr., Cincinnati, OH 45242.
Condolences may be sent to the family by going to: www.walkerfuneralhomes.com