Printing "The Surgeon Factory"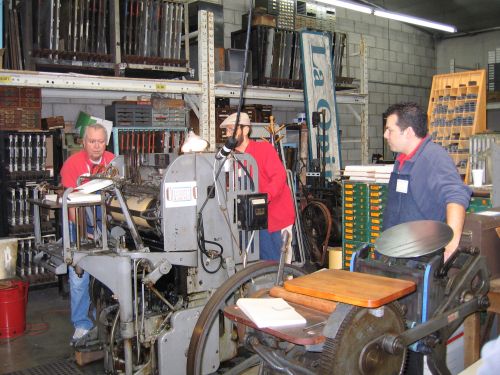 Dr. Leland "Doc" Whitson is a practicing physician, and a hobbyist printer. His uncle was also a practicing physician (a general surgeon), and Doc's inspiration for entering medicine, and for a very brief period, the two shared a practice. After the author's demise, the book was still an unpublished manuscript, and Doc took on the project of publishing it, printing it on the Museum's 1922 vintage Miehle Vertical cylinder press, from hundreds of type formes set on the museum's Linotype, with almost every line of it set either by the late Luis Garcia or by Doc himself.

Here, we see Doc (with the cap and the beard, behind the press), and his team, Armand, a retired job printer (to the left), and Dan, a skilled machinist (on the right), working on one of the last pages (the last page printed before corrections had to be made) of the book. In the foreground is one of the Museum's many treadle-operated platen presses, mainly used for teaching. It would be hard to imagine printing hundreds of copies of an entire book on that; it was difficult and time-consuming enough on the Miehle. Below, Doc and Armand check registration on a light box, before making final adjustments to the press and the type forme.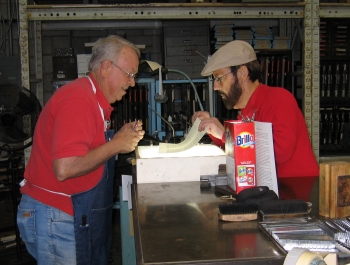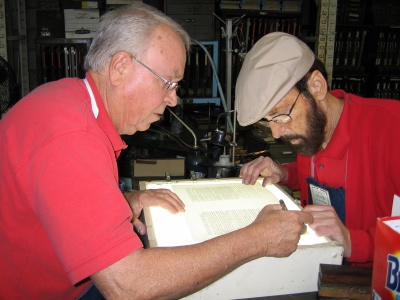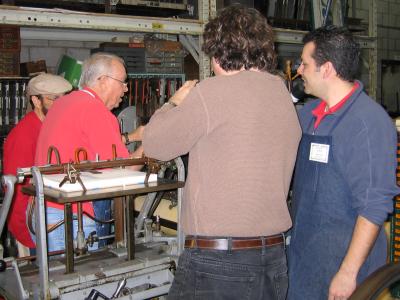 On the right, Museum Director Mark Barbour gets a picture as Armand hangs the forme back on the press (below), after some final adjustments.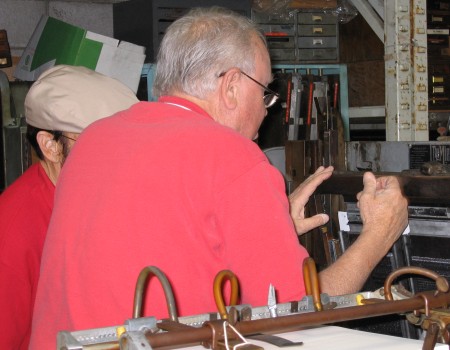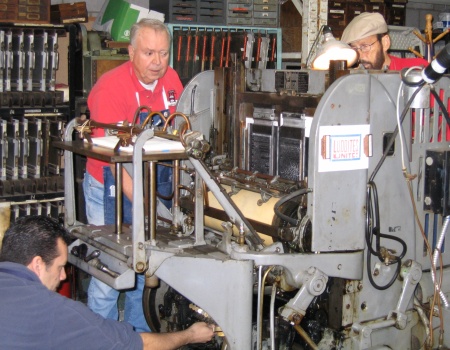 On the right, Armand and Doc wait for Dan to make some adjustments of his own.
Below, Luis sits at the Linotype. While Doc knows enough to "get by," and set a few lines for himself (or even, in a pinch, for a tour group), Luis was the true master of the machine.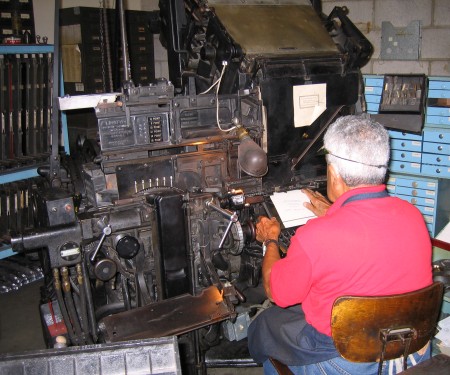 Click for a closer look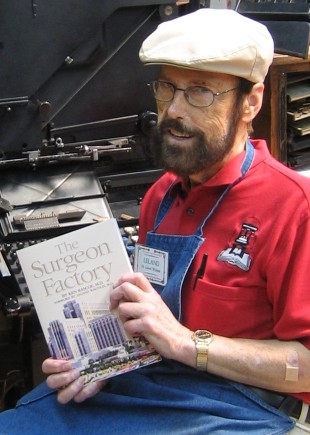 A movie of one of the final print runs, hosted on Flickr.



Back to the main typesetting page


Back Home James H. H. Lampert Copyright © James H. H. Lampert, 2011, 2015
Revised Tuessday, November 10th, 2015
This Page URL: http://members.toast.net/JHHL/Typesetting/DocsBook.html
Home Page URL: http:/members.toast.net/JHHL/index.html