Subscribe to Talien's Tower by Twitter, email or via the Site Feed
Monday, February 23
The MUD Companion #2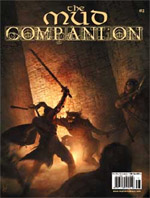 Purchase: The MUD Companion
Type: Non-Fiction (Article)
Suggested Retail Price: $5.00
Format: Softcover
Pages: 44
Publisher: The MUD Companion
Description:

So you think you're ready to MUD, but there's a million to choose from. Which is best for you?

This acticle helps you find the find the good MUDs from the sea of poorly designed MUDs.
Labels: writing
---