Subscribe to Talien's Tower by Twitter, email or via the Site Feed
Monday, February 23
Dragon Magazine #299
---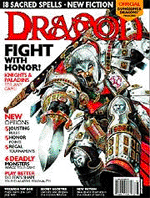 Purchase: Paizo.com
Cover Artist: Wayne Reynolds
Interior Artists: Arnie Swekel & Wayne Reynolds
Suggested Retail Price: $5.00
Format: Softcover
Publisher: Paizo Publishing
Discussion: Dragon Magazine Forum
Description:
This issue of Dragon presents the first of a new concept for articles about D&D. New campaign settings are great, but often it's hard to adapt that material for a game already in progress. "Campaign Components" articles take the best parts of a campaign idea and give you the tools you need to add a specific theme to your home campaign or use them to build a new world.
The first installment? Knights!
Jousting tournaments, knightly orders, honor, chivalry, quests, crusades, and courtly intrigue: It's all explained and presented so you can lift it or leave it. Play a gnome peasant, a dwarven squire, a halfling knight, or a half-orc king. You'll discover new uses for skills, d20 jousting and tournament rules, magic items, and adventure seeds so you can add knights to any game.
Think it's not D&D without mind flayers and mages? Don't worry: We'll show you how to bring chivalry to the dungeons and dragons to the tilting grounds.
Reviews
"I'm a big fan of elven paladins, and this article helped me flesh out my paladin more than Defenders of the Faith," said Loki at The Dragon message boards. "I was DMing our latest adventure and put a tournament in it. There was something in there for the bard/rogue and the barbarian/fighter, as well as my paladin. Everyone had something to do. The running at the rings was fun, as was the javelin toss. I loved the whole tournament! It took 2 hours for the tournament to be played out, but it was well worth it. We plan on having different tournaments in different towns now. I have no gripes about the honr point system, tournament rules, new paladin spells, or anything else! Kudos to the writers and to the staff of Dragon Magazine. Thanks for the focus on paladins and knights! I really liked it a lot!"
Labels: writing
---