Subscribe to Talien's Tower by Twitter, email or via the Site Feed
Monday, February 23
All the King's Men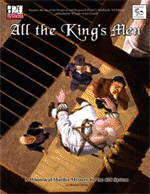 REVIEWS [out of 5]

TOTAL: 3.1

Purchase: Amazon.com
Type: Role-Playing Game (D20 Adventure)
Cover Artist: Allan Pollack
Interior Artists: Theodor Black and Robert Taylor
Suggested Retail Price: $11.95
Format: Paperback
Pages: 48
Publisher: MonkeyGod Enterprises
ISBN: 0971772924
Discussion: All the King's Men Forum
Description:

Filled with bizarre characters, twisted plots, and a macabre sense of humor, All the King's Men takes the PCs on a wild romp through the dark underbelly of Hamdon, a fantasy version of renaissance London. When the archbishop turns up dead at the production of the latest play, the acting troupe known as The King's Men is accused of murder. It's up to the PCs to track down the killer and prove the actors' innocence. But not everything is as it seems in the world of acts and actors.

"Monkey God did two of the best adventures written for D20: The Edge of Dreams and All the King's Men, two of only five prewritten adventures that I have run for D20 in the past three years," said The Auld Grump at ENWorld. "Both are truly excellent."

All the King's Men is a d20 System adventure suitable for characters of 7th-9th level.
Labels: writing
---