System Monitor
System Monitor is an optional utility that you can install from the Windows 95/98 setup program. System Monitor allows you to track a variety of system statistics, including the number of bytes sent and received by your modem.
Setting up System Monitor
To add a Bytes/Read chart to System Monitor:
Connect to the Internet (important).
Click the Start button.
Point to Programs, point to Accessories, point to System Tools and then click System Monitor.
Click Edit and then click Add Item...
In the Catagory list select your modem or Dial Up Adapter, if this option is available.
In the Item list select Bytes read/second (or Bytes Received/Second).
Click OK.
By default the chart update interval (set using the options menu command) may be 5 seconds, but, for the purposes of my tests, set this to 3 seconds.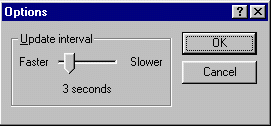 Using System Monitor
A sample System Monitor window is shown below. The Throughput test (GIF version) from the main site at homepage.eircom.net has just been downloaded using a MultiTech MT2834ZDXI connected to the POP at 28.8Kbps. The test reported an average throughput of 3420 bytes per second (cps) while System Monitor recorded a peak throughput of 3446 bytes per second.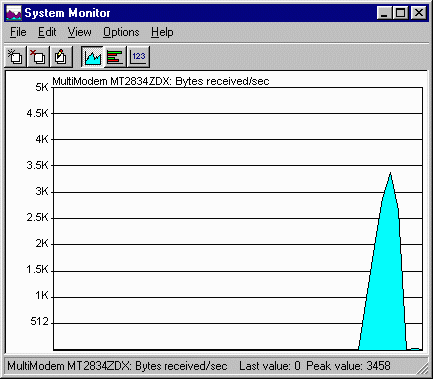 The same Throughput test was then downloaded from the mirror site at www.toast.net. This time the test reported an average throughput of 800 bytes per second, but, System Monitor recorded a peak throughput of 1977 bytes per second.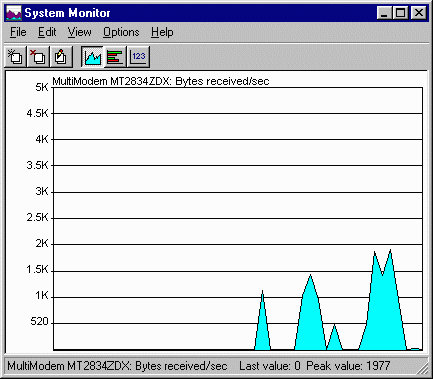 Note that, repeating the test to www.toast.net at an off-peak time (as far as Trans-Alantic routes are concerned) produced similar results to the first window.
The text test produced a System Monitor window as shown below. Due to compression the throughput is 2½ times higher than achieved using the text and graphics throughput test.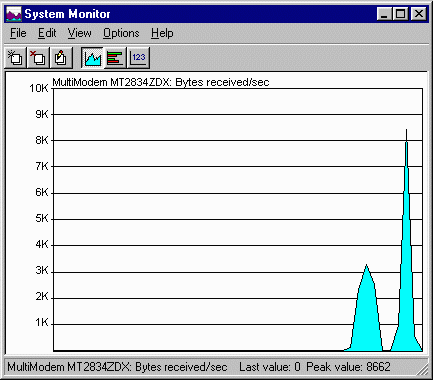 The following graphic shows a recent test using a later version of Dial Up Networking with a 3Com 56K modem, connected at 40,000 bps.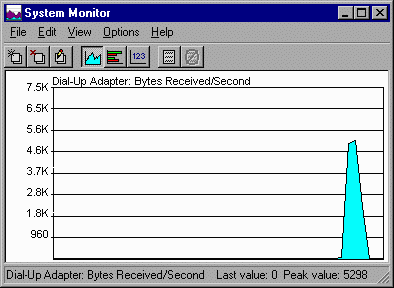 ---
Test Page | Test Information | Leslie Long's Homepage | Email
© Copyright Leslie Long, 1997-2000