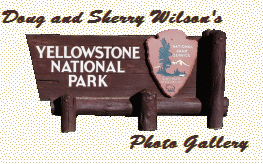 Page 7
To complete our weekend, we needed to do some shopping, so we went out the West Entrance to West Yellowstone. On the way we explored the Firehole Lake Drive.
The cool early morning air accentuates the steam rising from many features along the Firehole Lake Drive.
Firehole Lake
Steady Geyser earns its name by spouting
almost continuously from two small vents.
From there we followed the Madison River toward the West Exit and were treated to more wildlife views.
| | |
| --- | --- |
| | |
| A group of female elk crosses the Madison River. | Bull Elk rubbing the velvet off his antlers. |
Continue ..
.
Text and images Copyright © 2003, F D Wilson