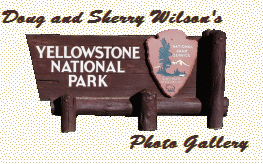 Page 6
WEST THUMB AREA
Our second "weekend" (we had Mondays and Tuesdays off) finally arrived and we decided to explore on our first day off, so we went just a few miles up the road to the West Thumb Geyser Basin.

The West Thumb basin is located right on the shore of Lake Yellowstone
The basin consists mainly of pools and hot springs




Some of the springs are right at the edge of the lake




The lore associated with Fishing Cone is that fishermen used to pull their boats up to the cone and drop their catch into the hot spring to cook. The Park Service put an end to this practice many years ago.
One more blue pool. Note the hot bubbling spring in the lower left




Across the parking lot, the Lake Overlook trail climbs a nearby hill.
A 200 foot climb rewarded us with excellent views.


The view across the water shows smoke rising from the many fires east of the lake.




On the way down, as we rounded a bend in the trail we were startled to come across a female elk only a few feet from the path.
We may have been startled but the elk wasn't and posed nicely.
Continue ..
Text and images Copyright © 2003, F D Wilson