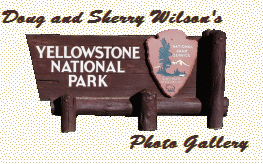 Page 8

The last of the fire camp equipment is hauled out by helicopter.
Little of personal note happened the next work week. The weather turned cool (or cold depending on whom you talk to) and rainy for a few days. This was a GOOD thing as far as the park fire situation was concerned, as the air cleared markedly, the firefighters were finally able to contain the big East fire, and they were once again able to open the East Entrance Road. They even closed down the fire camp at the end of our employee campground.

But the weather turned clear and warmer in time for our next "weekend". Since the road from Canyon to Tower was going to close down in about a week for major road work, we thought we ought to take advantage of the Canyon-Tower Road while it was still open and explore the area around Tower.

Heading north, we followed the Yellowstone River as it exited Lake Yellowstone.




The river emerges into a broad, open area known as the Hayden Valley.
The Hayden Valley is renowned as one of the premier spots in the park for viewing wildlife.


The wildlife doesn't always stay down in the valley.




Traffic backups due to bison in the road are known as buffalo jams.
White pelicans in the Yellowstone River.
The Yellowstone plunges over two astounding falls and enters the Grand Canyon of the Yellowstone at a place called Canyon. We bypassed this area as we planned to visit it on a later date, and headed over the soon-to-be-closed road over Dunraven Pass. The road proved to be narrow, twisting, and severely potholed. It definitely was in need of repair.




The road climbs high into the mountains to present lovely distant views.
After crossing Dunraven Pass, a dirt side track called Chittendon Road takes us partway up the side of Mount Washburn. The Park Service has a webcam fire tower at the summit - click here for the Yellowstone webcame page.


Descending the other side of the mountain, we come to Tower Falls. Tower
Falls' plunge between steeply eroded towers of rhyolite is an impressive sight.
Continue ..
.
Text and images Copyright © 2003, 2014, F D Wilson