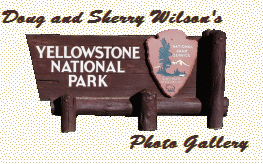 Page 17
THE LAST FEW DAYS
As the campground emptied out in the last week, the elk started moving in. Guests began complaining that the elks' bugling was making it tough to sleep at night. So I started carrying my camera during my last few days of campground attendant rounds.




One day in L Loop we saw a challenge between this bull and another. We never got a good look at the other due to interventing trees, but this bull ran the other one off.
While the big bulls were occupied, these two young male "spikes" took advantage of the situation and made amorous advances on one of the big bull's cows. She was having none of it.




Bald eagle down near the Lake.
On our final night we had one last campfire up at the employee campground, trying to burn up our remaining firewood. It was a futile effort as we're all a bunch of old farts who have trouble staying up past 9:30.
| | |
| --- | --- |
| | |
| Joe Wilroy was our resident pyromaniac. Joe took it as his personal responsibility to keep a campfire going through all waking hours in our fire bowl behind Wilroys' RV. Ruthie Shogren enjoyed that last fire as well. | Janice Wilroy and Jerry Downey. |
On Sunday September 28, we closed down the campground.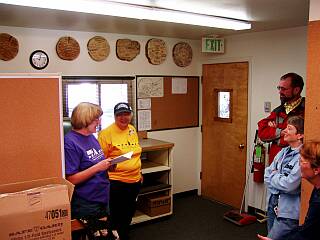 Our registration building after everything was cleaned out and packed up, a scant 3 minutes after the final 10:00am checkout time. Mary Jane Beardmore, Betty Lissow, Gene and Joyce Shea, and Ann Edwards.

If in no other way, we made our mark on Grant Campground via the rightmost lodgepole pine cross-section mounted on the wall on which the 2003 staff inscribed their names.
And finally we headed back to Michigan. Our seven weeks in Yellowstone were everything we'd hoped and more. We took in marvelous sights, had wonderful experiences, and got to know a terrific bunch of coworkers. But after two months on the road, it sure was nice to be heading for home.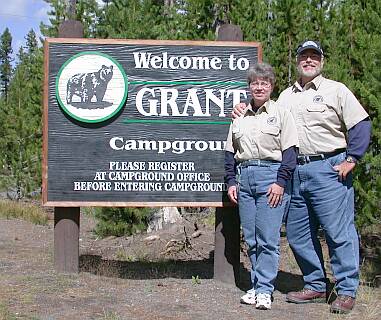 Image courtesy of Jim Snook
Our full
journal
from this experience is available online, although why anybody would want to wade through it is beyond me.
Best wishes to everyone reading this,
Doug and Sherry Wilson

You can email us at makaiguy@iname.com.
Except where otherwise noted, text and images Copyright © 2003, F D Wilson