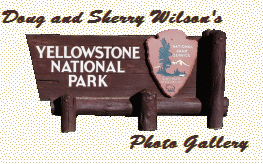 Page 16
A VISIT TO THE TETONS
Our time at Yellowstone was drawing to a close, so on our last day off work, we decided to "play tourist" and spend the day south of the park at Grand Teton National Park.


Heading south from Grant Village, the road passes by Lewis Falls.




Below the falls, the Lewis River enters a flat valley where we have seen moose on previous trips through the area.
The Lewis River then passes through a deep canyon as we continue out the south entrance to Yellowstone.


From the South Entrance of Yellowstone, it is only a few miles to the North Entrance of Grand Teton National Park. As we traveled south and dropped in elevation we found stands of aspen trees, turning to gold as autumn approaches.



At the Jackson Point Overlook on Signal Mountain, we have a magnificent view of the entire Teton Range.




Grand Teton
Mount Moran



At the base of Signal Mountain, we finally were able to snap a picture of a coyote.




This view is known as the Cathedral Group, composed of Mt. Teewinot, Grand Teton, and Mt. Owen.
Jenny Lake and Cascade Canyon


Magnificent view of Grand Teton from Snake River Overlook. As a reminder, here's how things
looked from this same viewpoint just a few weeks earlier when the valley was filled with smoke:
Continue ..
.
Text and images Copyright © 2003, F D Wilson