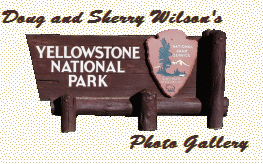 Page 15
WILDLIFE AT THE EMPLOYEE CAMPGROUND
Although we'd been all over the park looking for wildlife, sometimes it was best just to stay put.
Mule deer through the dining window of our trailer.


Some of the elk we've seen in the campground.




Bald eagle in tree just below the employee campground.
Not all of the animal life spotted in the campground was exceptionally wild.
Many of our neighbors reported seeing coyotes loping through the campground also, but we never had the privilege.
Continue ..
.
Text and images Copyright © 2003, F D Wilson