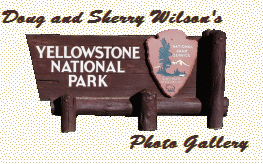 Page 13
ARTISTS PAINT POTS
While staying at Canyon we took a side trip to the Artists Paint Pots.




A short trail of about a mile brings us to a thermal basin on the side of a hill and spreading out below it.
A small geyser spouted continuously.




The Paint Pots are so-called because of the variety of colors present here.




Up on the hill are several small springs with no outlets, known as "mud pots". Their flow is so low that they are just filled with mud, colored by various minerals, with pockets of hot gases bubbling up through them.




As the bubbles burst, the mud splatters and builds a splatter cone around the spring.
As our one and only three day weekend came to an end we headed back through the Hayden Valley and saw our first snow on the higher hills and mountains. We could only hope that this was a premature event and that we still had some nice days left in our remaining 2-1/2 weeks.
Continue ..
Text and images Copyright © 2003, F D Wilson