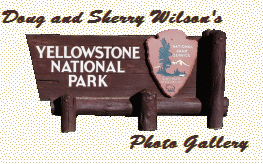 Page 12
CANYON AREA
In earlier pages we've shown you the Yellowstone river placidly flowing through the Hayden Valley after it leaves Lake Yellowstone. At Canyon, its gentle flow changes dramatically.
| | |
| --- | --- |
| | |
| After passing under the Chittendon Bridge, the Yellowstone suddenly plunges over a 109 foot precipice at the Upper Falls. Nearly anywhere else in the world, this would be considered a noteable sight. | But here, the Upper Falls is just a sidelight to the magnificent Lower Falls, just a short way downstream. Here the Yellowstone tumbles a whopping 308 feet. |
| | |
| A steep, switchbacked trail leads 600 feet down in just 3/8 mile to the brink of the Lower Falls -- easy going down, but a killer coming back up in the thin mountain air. | Along the trail we are rewarded with a view upstream to the Upper Falls |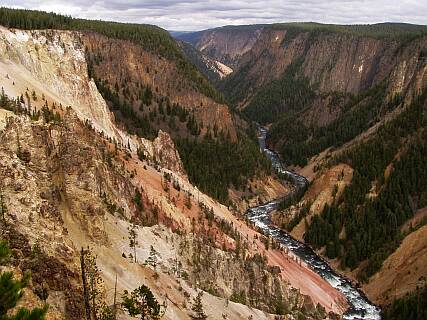 The Lower Falls marks the entry of the Yellowstone into an area where the rock was baked and weakened by thermal activity. The resulting comparatively soft rock was easily eroded away by the river, producing the impressive Grand Canyon of the Yellowstone with an abrupt beginning at the Lower Falls.




The Lower Falls is visible from a number of viewpoints on both the north and south rims of the canyon, but the definitive view is probably the one from Artists Point on the south rim.




The walls of the canyon reflect the colors of minerals leached out by the thermal activity.
Continue ...
Text and images Copyright © 2003, F D Wilson