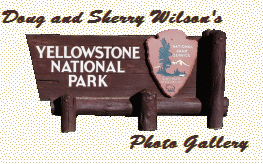 Page 11
The next work week was pretty uneventful, and eventually we made it to our next days off. Now that the East fire was under control and the East Entrance Road was open again, we took our dog Cookie over to Cody WY to a kennel and came back into the park to stay at one of the lodges at Canyon for a couple of nights since we had been given three days off this time.
The Norris Geyser Basin is only a few miles west from Canyon so we paid it a visit. Because of unusually high ground and water temperatures, the Park Service had closed access to much of this basin, fearing that his might presage violent and dangerous thermal activity.




A thermal pool in the Norris Basin.
Steamboat Geyser, located in the Norris Basin, is reputed to be the largest in the world. Its major eruptions go up to 300 feet in the air, but it is irregular, infrequent, and unpredictable. Steamboat has had several major eruptions in the last two years, the most recent, as this is written, being five months ago in April 2003. Minor eruptions of 10 to 15 feet are fairly common, though, happening several times an hour and teasing the visitor into thinking this might be the beginning of &quot'the big one".




Returning to Canyon, we stopped by the Virginia Cascades. Here the Gibbon River flows through a steep walled canyon and plunges many feet in an impressive display, even in this late summer low flow period.
Staying at Canyon, we were just a few miles from Hayden Valley, so we ventured out in the evenings to view wildlife.
| | |
| --- | --- |
| | |
| Mule deer doe with two fawns, their spots nearly faded as autumn approaches. | Mule deer buck with his antlers still in velvet. |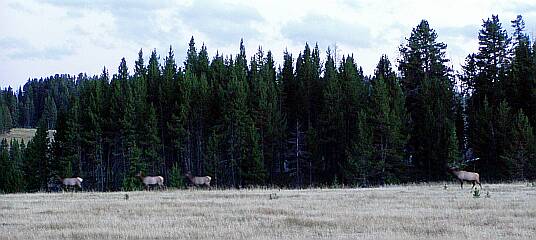 In September, the solitary male elk come down from the higher country and start rounding up their harems of females as mating season approaches. As dusk came on we saw several bulls with their harems and could hear the males' loud, high mating cries, known as "bugling". We sat in the truck and listened to the elk bugle long after it was much too dark to see anything.
Audio file of elk bugling


Courtesy Dr. Bill Forbes, Indiana University of Pennsylvania, used with permission




But we didn't always have to go looking for wildlife, sometimes it came to us. This bison stayed around the front of our lodge at Canyon for several hours -- that's the window to our first floor room with Sherry standing out on the Lodge's porch. Later we found it difficult to back our truck out when we wanted to go exploring. The next day we heard some Canyon employees referring to him as "Norm", so apparently this bison was a fixture around the lodging at Canyon. We assumed this was a reference to the character in the television program Cheers - Norm was large, had curly dark hair, and was always hanging around.
Continue ..
.
Text and images Copyright © 2003, F D Wilson