Porters Flat Trail to Mount LeConte

We took this trail to Mount LeConte in April of 1990. It is a nine mile go, yet quite moderate in steepness. A gated road goes for almost a mile to the former community of Porters Flat. The trail splits in two here. A good sized cemetery and cabin here are interesting historical sites and usually have some visitors. The trail to the left follows Porters Creek two and three quarter miles to campground # 37, a wooded hollow by a stream underneath Charlies Bunion. It offers no view whatsoever, but is a pleasant camp within only an hour or two of your car. The right-hand trail begins with a mile of meandering through rolling hardwood (I never found a split in the trail or the spring shown on the quadrangle map). The slow but steady climb up to Trillium Gap is in excellent condition until a few hundred yards shy of the Gap. The trail climbs for three and a half more miles directly up to Trillium Gap. As we were not in the best of shape for the hike (over the winter we sloughed off) we did not opt to go the extra half mile each way to Brushy Mountain! However, if you have not been there, do not neglect to visit as it is one of the finest views in the park. From the gap to Mount LeConte is, of course, well travelled and wide. The flora changes little during the entire ascent until nearing LeConte. However, swags and northern slopes are notably more coniferous. The upper elevations offer the familiar Frazer Fir and heath scrub terrain (See Mount LeConte).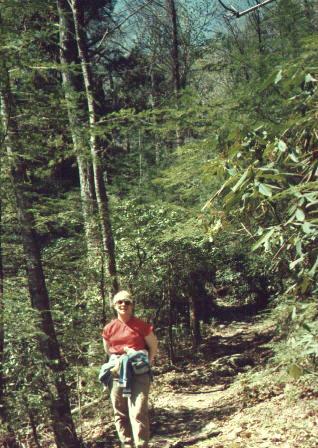 Leslie on the trail to Trillium Gap from Porters Flat Area.
Four and a half easy miles to Trillium Gap, nine long, but moderate miles to Mount LeConte.
Leslie's unfinished description is here
---
Return to the Smoky Mountain Home Page.