San Francisco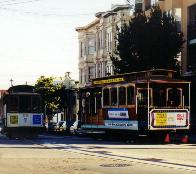 Some people know they're in San Francisco
when they see the Bay Bridge, or the Golden
Gate, or maybe the Coit Tower, or
perhaps the Transamerica Pyramid,
or when they hear the foghorns or the bells
that ring out when the cable cars go by.
Or maybe even when they smell the crabs
and other seafood cooked on Fisherman's Wharf.
For me, however, it's none of these things;
I know I've made it when I smell track brakes,
that piney, smoky scent as cable cars
go down steep hills where they first had their birth.

James H. H. Lampert, Copyright © 2001. All Rights Reserved Worldwide.
The single most important safety tip for San Francisco
It's very easy to think of San Francisco as a city-sized, city-themed amusement park. There are, after all, street performers, all sorts of antiquated, seemingly impractical vehicles to ride, and museums of every conceivable type. (I wouldn't bat an eye, nor, I'm sure, would most San Franciscans, if Steve Martin's bit about a "turd museum" ["they've got some great s**t there . . . I'll bet some of that c**p is worth a lot of money"] turned out to be true.)

But you must at all times remember that San Francisco is an actual working city People live and work in San Francisco. They're born there; they grow up there; they raise families there; they grow old there. They also die there, and not always of natural causes. If you treat San Francisco as an amusement park, you're not only asking for trouble; you're also insulting the city, and everyone who lives or works there. But if you always remember that you're in a real city, you're probably quite a bit safer than you'd be in most major U.S. cities.
The Two Biggest Bargains in San Francisco
Both of the two biggest bargains in San Francisco come from the San Francisco Municipal Railway (the MUNI).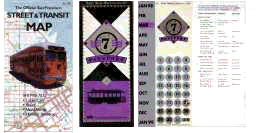 The MUNI Map
It's hard for any map to beat both Thomas Brothers and AAA, but this one manages it. For well over a decade, the MUNI has been publishing the best street map of San Francisco available anywhere at any price. The Official San Francisco Street & Transit Map folds to shirt-pocket size, and unfolds to a map that not only covers the entire city in great detail, with an enlarged downtown section; in addition, every single MUNI route in the city is shown with color-coded lines, along with the San Francisco portions of BART, CalTrain, Golden Gate Transit, AC Transit, and SamTrans. It's essentially the same map that's posted in major bus, cable car, and trolley stops, and the best part is that it costs less than practically every other map available: it's only $3.00, and you can usually get it in the Hallidie Plaza Visitor Information Center, the Victorian Park Ticket Booth, and in quite a few book and souvenir shops around town. You can also view it or download it as a PDF on the MUNI web site.
MUNI Passes
Getting around on public transportation by cash fares alone can be a bit expensive. Bus and trolley fares are now up to $2.25, including a transfer; cable car fares are now up to a whopping $7.00 a trip, one way, with no transfers issued or accepted. How do the locals afford to ride the MUNI? The same way regular transit riders do it in most cities: they buy passes, and in San Francisco, there's every reason for tourists to do the same.

Most locals who use the MUNI (which would include practically everybody who lives downtown) buy the monthly Fast Pass (once a color-coded wallet card, but now on the Bay Area's "Clipper" smart card system) that costs $70, and covers the entire system, including cable cars. More practical for tourists who are in town for two weeks or less are the MUNI Passports, which are available in 1-day ($17), 3-day ($26), and 7-day($35) denominations. Simply buy the pass, scratch off the month and days you want to validate (be careful to scratch the right month, and the correct number of consecutive days), and you have all the privileges of a Fast Pass holder.

Cable car conductors also sell a one-day pass that's equivalent to a one-day passport, and costs exactly the same, $17.00.
Give me a MUNI map and a MUNI pass, and I can go anywhere I need to go in San Francisco.
Some tips for tourists in San Francisco
San Franciscans themselves do a remarkable number of things that might be considered "touristy." The locals actually do occasionally patronize Pier 39, and the Fisherman's Wharf restaurants, and most likely even the "touristy" establishments facing the Wharf (such as the Ripley's Believe it or Not Museum). They go to the Cliff House for lunch. But there are some things the locals don't do, and that a well-informed tourist shouldn't do, either, and most of them have to do with cable cars.

Locals, at least if they ride public transportation with any regularity at all, don't pay the $7.00 "sucker fare" on cable cars, especially if for round trips. Think about it: a round trip on a cable car costs $14.00; for only $3 more, you can get a pass good for all public transportation for a full day.

Locals really do ride cable cars, but they usually avoid them during prime tourist hours. Unless the buses and trolleys are just as crowded (which happens), you're better off, if the cable cars are leaving the turntables already packed, taking a bus or trolley.

Locals know enough not to intrude into the working areas of the gripman and the conductor, or to block doorways. If you stand on the yellow floor area behind the gripman, you're practically begging to get the gripman's butt in your face, when he hauls back on the grip lever going up a steep hill, or on the track brakes descending (or stopping on) a steep hill.

The rope running along the ceiling of a cable car is not the same as the stop-request cord on a bus or trolley. It's used to allow the conductor and the gripman to communicate with each other. Many cars have hand-lettered "do not touch" signs posted near this signal cord; even if you don't see such a sign, keep your hands off. If you want to get off at a particular stop, just ASK the gripman or conductor, preferably at least half a block in advance.

Remember, as I've said, San Francisco is a real city, NOT an amusement park. Yet tourists are constantly taking extraordinarily idiotic chances with traffic, failing to look before crossing streets or boarding cable cars, hopping off or leaning out right into opposing traffic to snap pictures of the cars they're riding, or otherwise risking their lives for no good reason. Locals don't do this, and neither do experienced tourists.

If you use good common sense, San Francisco can be a wonderful place to spend your vacation. Without common sense, though, it can be a dangerous place.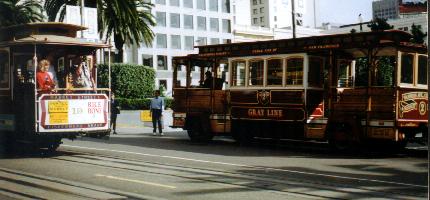 To me, the very height of absurdity, and something far more touristy than any of the establishments in the Fisherman's Wharf/Pier 39 area, are the various and sundry "fake cable car" tour buses found all over San Francisco.
Clue: The fake one is the one on the right!
Some years ago, I went looking for live theatre in San Francisco, and stumbled upon a small semiprofessional theatrical company, 42nd Street Moon, that was doing a production of Rodgers & Hammerstein's collaboration with John Steinbeck, Pipe Dream. The production was to be a "staged reading," with props, costumes, but very little scenery, and an onstage piano standing in for the pit orchestra.

I liked what I saw, and I've been going to their productions (which have evolved into fully-staged performances) ever since, and I highly recommend them.



San Francisco Restaurant Reviews
Blue Sky Cafe
This North Beach establishment appeared and disappeared over the course of no more than a year. Pity: the people were very nice, and while all I've had is a bowl of oatmeal, it was excellent oatmeal.
Eagle Cafe
This was once the least touristy establishment on Pier 39. It was a working-class restaurant, serving hearty breakfasts and lunches to working-class customers, back when Pier 39 was a freight pier. Even after it was physically moved to its present site, it retained that character for many years, but it eventually succumbed to its own popularity, and is now as touristy as any other Pier 39 establishment. Simply the best prime rib available anywhere, at any price. A number of restaurants serve a superb prime rib, but the House of Prime Rib outdoes them all. There are really three elements that set this establishment apart from all the others. Firstly, they serve from prime rib carts, carving the slice from the roast only a few feet from your table. This ensures freshness, and ensures that your slice reaches you at the peak of flavor. Secondly, the "second slice": if you still have room after you've finished your initial serving, all prime rib dinners include, on request, a second slice. It's not very much, but it's enough to illustrate why they carve the roasts on a cart.

The third thing that sets the House of Prime Rib apart is the simple fact that they serve a truly good Yorkshire pudding. At far too many other establishments, if Yorkshire pudding is served at all, it's either a heavy, indigestible mass of undercooked suet-laced batter, or it's an overcooked popover, seared almost beyond being recognizably edible. The House of Prime Rib's Yorkshire pudding, by contrast, is consistently perfect.

Simple, basic, inexpensive Italian cuisine is what this local chain (which has now spread beyond the Bay Area, only to fall on hard times and close all of it's San Francisco locations) is all about, and what it does best. It's always busy, but you're never kept waiting too long. This place has become the center of a dispute with the Port Authority, and if it survives at all, it will almost certainly have to relocate very soon. It was never all that much to look at on the outside, but the food, the service, the ambiance, and the view of the Bay Bridge (and of arriving and departing ferries) is about as good as it gets, and it's very convenient for those arriving (or departing) by Amtrak connecting bus, or by ferry. The Blue Sky may have disappeared into the blue sky from whence it came, but Pat's seems to be here for the long haul, serving both tourists and neighborhood regulars from its location only a block from the Bay & Taylor Cable Car Turntable. Initially specializing in breakfasts, it briefly experimented with dinner; it currently serves only breakfast and lunch. And the original owner is usually still around. If you walk along the waterfront between Fishermen's Wharf and the Historic Ships of Hyde Street Pier, you will find (among the souvenir shops, ship chandleries, and wholesale fishmongers) Pompei's Grotto, a family-owned restaurant that's been there since 1946, and seems to get at least as much local business as it does tourist business. The food and service are excellent, and while seafood is clearly the specialty, they also offer a variety of non-seafood choices. What can I say? They season their garlic with food. The Forty-Clove Chicken is excellent, and surprisingly mild.
San Francisco Links


Back Home James H. H. Lampert Copyright © James H. H. Lampert, 2001, 2015
Revised Wednesday, November 18, 2015
This Page URL: http://members.toast.net/JHHL/SanFrancisco/SF.html
Home Page URL: http://members.toast.net/JHHL/index.html