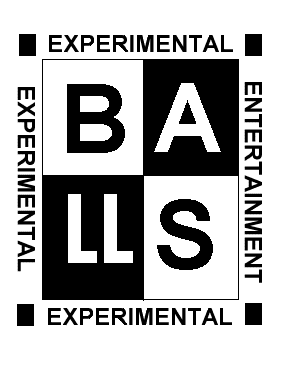 ---
Highlights Gallery
---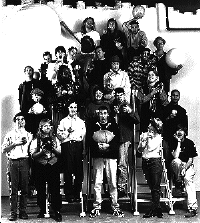 The gathering to the right are just a few of the individuals who have performed at BALLS Cabaret in the past. Left to right:
1st row: Brian Sostek, Karen Haselmann, Michael McAllister, Marya Hornbacher, Westin
2nd row: Alex Alaxander, Kate Brenner, Derek Hughs, Michael Matteson
3rd row: Ben Bakken, J. Otis Powell!, Dan Cappechi, Matt Jensen
4th row: Clyde Sheets, Winona Sorenson, Arwen Wilder, Danny Schmitz, Rafael Viera, Russ Rogers
Top row: Jimmy Jahoda, Leslie Ball & Ben Bradley
Photo Courtesy of Walker Art Center

---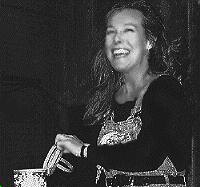 Leslie Ball partaking of her favorite tradition. She regularly distributes Hershey's Kisses to the audience during the performance to satisfy their sweet tooths and for a bit of Midnight energy. They were originally thrown into the audience, but on discovering that little "varmits" were eating the kisses, tinfoil and all (resulting in their untimely demise), it was determined that they would have to be passed around in the now famous "Kiss Kaddy".
Photo courtesy of: Eric Geigle, Home Page at Macalester.
---












Photo's courtesy of Melissa Gerr
Available on an 8 card set of postcards
at BALLS Cabaret.



---
Copyright © 1996 by WBS Consulting. All rights reserved.
Website designed and maintained by WBS Consulting
Comments: Webmaster; Revised October 1st, 1996