Booking: 757.646.9757
email: denny@dennyf.com

Denny Fohringer is a guitarist, singer, composer and music teacher. Over the course of a 35+ year career, Denny has played everything from solo acoustic gigs to 15-piece band gigs, and has also done a stint in musical theater as a pit guitarist. He's played coffee shops to arena stages for audiences of three to 3,000, in locations as diverse as Hilton Head, SC, St. John's NL and Nashville TN. His bands have opened for artists like the Charlie Daniels Band, Firefall, Atlanta Rhythm Section and Joe Bonamassa.

Denny has definitely never played in a "skiffle" band.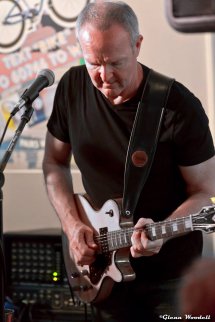 However, he has played in a pretty wide range of styles. Check out the music on the online player and the videos, you'll get the idea. Originally inspired and influenced by Steppenwolf, the Allman Brothers Band, Johnny Winter and UFO/Michael Schenker, he later came to appreciate the more sophisticated stylings of Robben Ford and Larry Carlton, the shredding of Joe Satriani and Steve Morse, and the chicken-pickin' of Brent Mason, Vince Gill and Steve Wariner. While he doesn't pretend to sound like any of these influences, they all are expressed in his style.
While he enjoys ranging far afield, he always seems to come home to rock and progressive blues.
Curriculum Vitae (partial)
Solo performer
Jessica Doran/The Jess Doran Band
Damn Jankes
Groove Cats
The F-150s
The Bobby Blackhat Blues Band
The Jukes Boogie Trio
The SpeedBumps Band
Blue Pearl