Predator: Cazador de Trofoes
---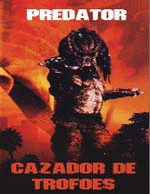 Download: T & M Bazaar
Authors: Michael Tresca, Rob Cooper, Mark Howe
Type: Role-Playing Game (D20 Modern Supplement)
Suggested Retail Price: FREE
Format: .pdf
Pages: 43
Description:

Predator: Cazador de Trofoes is a role-playing game set on Earth, where alien hunters come for the best sport of all: man.

They call themselves the Yautja but everyone else calls them the Predators. What everyone will agree on is they are the most feared hunters in the entire galaxy. Most encounters have been with a single Yautja and the only survivors have been women and small children. Their accounts have been sketchy at best, but they consider the Yautja killing machines. The Hunt is everything to the Yautja. Every single one of the Yautja has as its goal to be the ultimate hunter and each strives to perfect the Hunt. To the Yautja, if you are not a Hunter, you are prey.

Predator: Cazador de Trofoes is a campaign supplement for D20 Modern that contains 1 new race (the Yautja), 6 new occupations, three new uses for old skills, all new Predator equipment, reputation rules for the Yautja Code, 4 new advanced classes, and 5 new monsters.

If You Like This...

Check out these other science fiction titles that are compatible with Predator: Cazador de Trofoes.