Evil Dead: Swallow This!
---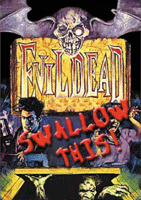 Download: T & M bazaar
Authors: Michael Tresca
Type: Role-Playing Game (D20 Modern Supplement)
Suggested Retail Price: FREE
Format: .pdf
Pages: 34
Discussion: Enworld d20 System & OGL Games
Description:

It's the 1990s and the Book of the Dead has just become the New York Time's bestseller. Oprah recommends it. Of course, Oprah's a deadite twin, but she was on TV long enough to tell the gullible masses about how great a book about sacrificing people to demons is. And of course, said gullible masses lap it up like the tripe-reading sheep they are.

One reading of the book caused mass havoc at Knowby's cabin and left several people dead. Imagine kids and adults everywhere reading the book out loud and opening portals to hell all across the globe.

The heroes have their work cut out for them and a variety of implements to cut with, including knives, axes, and chainsaws. Reality is a living hell - literally. But there's a catch.

The book has been used to summon demons, but it's also been used to send them back. If the PCs can just discover the right spell to send them backwards in time from the original book, they might have a chance to stop the madness before it starts.

If you've ever screamed, "Why don't you get a gun and SHOOT IT!" at the pathetic victims of any horror movie...this is the game for you.

Evil Dead: Swallow This! contains 2 new professions, 7 new uses for skills, 11 new feats, dozens of deadite-hunting equipment, 17 new spells, madness and time travel rules, 5 FX items, and 16 deadites to slay with.

If You Like This...

Check out these other horror titles that are compatible with Evil Dead: Swallow This!