Feature Article
2003 National 3-Wall Tournament--Maumee, Ohio
Szatkowski Brothers advance to Open Doubles Final.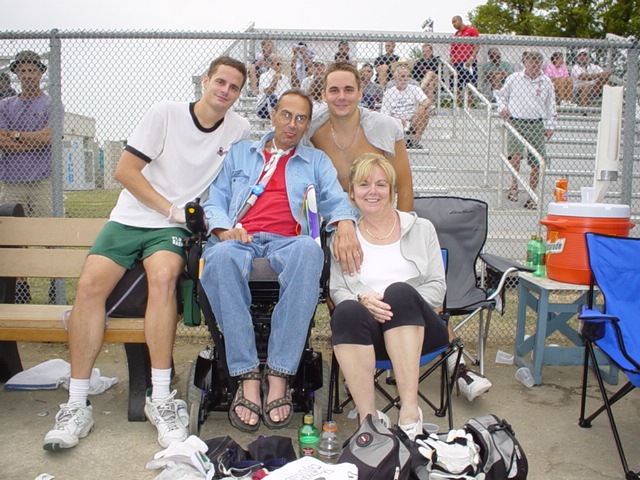 Szatkowski family
The 2003 3-Wall Open Doubles quarter final match was one of the biggest stories of the tournament. In the tie breaker, Casey Mayo and Kendall Lewis led Adam and Dane Szatkowski 10-2. Through great effort, the brothers scratched back to overcome the seemingly impossible deficit by scoring the next 9 points to win 11-10.
Unfortunately, this situation is not the first time the Szatkowski's have battled adversity. Cheering on the tremendous effort were the young men's parents, Frank and Judy. Eighteen months ago, Frank was diagnosed with ALS (Lou Gehrig's disease). Until that time, Frank enjoyed an active handball lifestyle.
Frank won the Illinois 4-Wall State Doubles championship in his division in 1986. He previously owned the Killshot courts in Bloomingdale, Illinois, where he passed his love of handball to his three sons, Adam, Dane, and the eldest Frank Jr. Adam and Dane went on to hone their skills at Lake Forest College.
Handball continues to provide joy and togetherness as the family travels to many national and local tournaments in support of one another.