My Other Cars
Though I've had many cars, I haven't been too good about pictures. I'm still searching other friends' picture files for pics they may have taken of some of the cars not on these pages. Here are a few stragglers.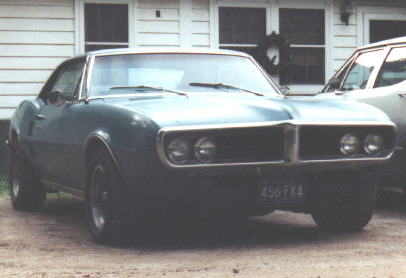 Here is my '67 Pontiac Firebird. I got rid of this before buying the LeMans. I sold it to get more radio equipment! It had a 326, an Edelbrock aluminum intake, a Holley 750 polished aluminum carb., dual exhaust with cherry bomb mufflers (sounded SWEET!), 2 speed auto, 2.42 limited slip rear, heavy duty front springs, heavy duty multi-leaf springs in the rear (it came with single leafs), KYB gas shocks, and 60 series "radial T/A's" on aluminum 14x 7 offset mags all around. It was light enough to jump off the line, but had the highway gears to fly on the highway. This was a very nice car. Not one speck of rust on it anywhere. This is the only picture I have, and it doesn't really do it justice. The custom color virtually glowed when it was washed.....it isn't washed here!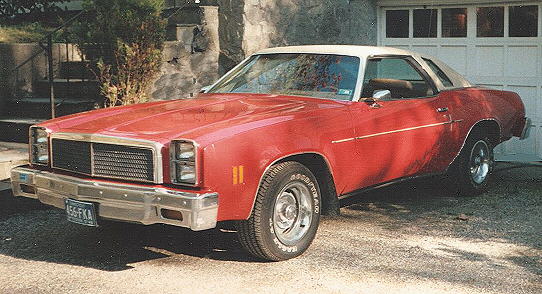 The '76 Chevy Malibu Classic.
I usually don't dig newer cars, but I needed something clean between the Monte Carlo and the Firebird, and this popped up. It had 12 coats of red laquer, an incredible sound system, the 15 x 8 Corvette wheels with Eagle GT's, new springs, and a 350 in a detailed engine compartment. This picture is how it came. I quickly added a quadrajet (4 barrel and intake), 295/50 Radial T/A's all around, dual exhaust (no catalytics of course!), rear sway bar, KYB gas shocks, raised the rear a bit, all new A-arm bushings and ball joints, and put in a shift kit......not necessarily in that order. It handled GREAT! It wasn't the fastest car on the block though. It was a good car, but I beat it to the ground and sold it to my pal Kevin, who beat it more and junked it.

Talk about a trashed photo! What a mess. This is a picture of a '78 Plymouth Fury Police car that I owned for a short time. This is a dirty old Polaroid taken by the guy who sold me the car, just before he bought it. It was an official State of Vermont car. It had a 440 engine, a thermoquad 4 bbl. carb, dual exhaust, heavy duty suspension, skid plates under the exhaust, double pulleys on all engine accessories, even a radiator on the power steering pump! The rear end was a Dana 3.08 full positraction unit. The rims were the extra wide slotted steel police specials. If it's hard to see, you can see an identical car in action on the television series "Hunter"....he drives the same car, color and all!
Nice guy that I am, I sold it back to the fellow who sold it to me when he regretted selling it.