Ancestor of the Month
John was from Sumner County, Tennessee. In 1861, he enlisted in the 33rd Tennessee Infantry for the Confederate cause of the War Between the States. He was captured in Nov 1863 and held at the infamous Rock Island Prison in Illinois. Conditions were horrendous and all prisoners suffered greatly. Invalid, he was transferred for exchange in Feb 1865. He remained in the hospital until parole in May 1865. He walked roughly 500 miles home.
So even though he wasn't an officer or recognized hero of any particular battle, we pay tribute to him as a soldier and honorable man - our ancestor.
I'm also the county coordinator for the USGenWeb site for
Perry County Tennessee.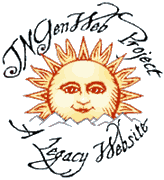 Click here to visit this site.
Please e-mail me if you wish to share information about our ancestors. Click on my name below:
To make a donation
Genealogy is my hobby, but I do consider myself to be the family historian. I take that responsibility very seriously. If you have benefited from the information on this website, please consider making a donation. To contribute to Jan's genealogy research, click here