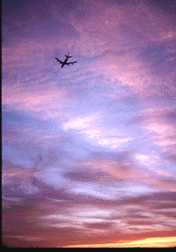 Please note this page is no longer being maintained. With the explosion in web resources and availability of excellent search engines since this page's creation in the 1990's, there is no longer a reason for me to work on this. There is a very good possibility that many of the links here are no longer valid.

Welcome to my TRAVEL Page. One of the things I really enjoy is getting out of town to see some of the rest of the world. Here are some links that will help you do the same.
Jump to:
(No Longer) Maintained by Doug Wilson, MakaiGuy@iname.com
Last update: 15 July 2001


Last full link address verification: 9 July 2001
An organization made up of timeshare owners. &nbsp Provides extensive library of member reviews of timeshare properties, forum for direct trading, etc. Web site includes an active and extensive bulletin board where members and visitors can exchange information on properties and destinations, and all aspects of timesharing.

Information on Joining TUG

Exchange organizations

Resort Condominiums, Inc (RCI)
Interval International (II)
San Francisco Exchange Company (SFX) - small independent outfit

Holiday Resales - Timeshare resale broker

Timeshare Webring - link up with timeshare related sites

PARKNET - US National Park Service

Links to pages for park systems in the various U.S. states, official and otherwise

Search thru state and national parks, forests, etc.
A service of L.L.Bean, wouldn't you know?


An interesting resource to help you find things to do near your chosen destination
Information about how different airlines handle things like overbooking, checked luggage limitations, delayed flights, etc.
Links to offical Travel, Visitor, and Convention bureaus around the world.
Includes numerous online foreign language dictionaries
Check prices, make reservations, etc.
Connect directly with owners of vacation rental properties

- Some of my favorite GETAWAYS
Hawaii || Hilton Head || U.S. Southwest || Canadian Rockies || Boundary Waters / Quetico || Other neat places
---

Last full link address verification for Hawaii section: 2 Aug 2000
NORTH SHORE KAUAI
Pictorial visit by yours truly


A very attractive site giving good information about the various islands that make up Hawaii. BEAUTIFULLY illustrated with outstanding photographs by Ann Cecil.
The Makai Guy recommends you take time to explore this one!

THINGS TO DO

Hawaii Luau List

Scuba on Maui and Lanai

Bubbles Below Scuba Charters Dive around Kaua`i and Ni`ihau

Hawaiian Island Golf Network- Nifty site! Don't forget your sticks!

Hawai`i Golf Courses Extensive list for all the Islands. Some with scorecards and/or maps.

Air Kauai - Helicopter Tour operator on my FAVORITE Hawaiian island.

Above it All! - Big Island air tour operator. Nice site with some good pix.

Captain Zodiac - The originator of the Hawaiian zodiac raft tour

NAPALI Adventures Catamaran sightseeing and snorkeling trips from Hanalei, Kauai

Kayak Kauai Outbound - Guided kayaking, hiking, and sightseeing on the Garden Isle.

Hawaii Movie Tours - "See Kauai through Hollywood's Eyes"

The Makai Gal and I took this tour on our last visit and enjoyed it a LOT!!

PLACES TO STAY

If you are interested in timeshares, you can purchase units much more affordably on the resale market than you can from the resort developers. We have dealt with TRH personally, and found them to be hard working, helpful, fair and trustworthy.
"Our" Resort community on Kauai's North Shore.
Bed and breakfast on Kauai's North Shore
Homes for rent and houses for sale on Kauai. They hope to expand to include other islands in the future.

INDEXES OF HAWAIIAN LINKS

Hawaii Home Page - from Honolulu Community College and U of Hawaii

Maintained by Mark and Donna Damron whose goal is to collect links to all the Hawaiian net sites that are out there... and they've found a TON of them!

NEWS FROM THE ISLANDS

HAWAIIAN RECIPES

The owner of Sam Choy's Restaurants, Honolulu, and author of Hawaiian cookbooks, including The Choy of Cooking (ouch!), provides weekly recipes, sponsored by Honolulu TV-8 and Sure Save Markets.
Web site for The Electric Kitchen, a cooking show on Hawaiian Public Television, sposored by the Hawaiian Electric Company

HAWAIIAN MUSIC

Hawaiian Jamz [RealAudio]

"Dedicated to promoting and preserving Hawaiian music and culture."
Lists Hawaiian music sources on the net.
Aloha Joe brings you one hour programs featuring the best of Hawaiian slack key guitar music

OTHER SITES WITH THEIR OWN CONTENT

Travel tips and vacation secrets from the publisher of the Kauai Underground Guide
Online guide from the publishers of Driving and Discovering H@W@II guidebooks.
An attractive and interesting site dealing with Christmas, kids, and Hawaii in general.
A commercial site with lots of information about the major islands, where to stay, what to do, and how to spend your money there.
Series of online data books with lots of non-tourist oriented information about each of the islands.
Great place to start exploring, and home of Internet Radio Hawaii, to boot.
Brought to you by the publishers of This Week Hawaii Tourist Magazine
Visit Maui with the Maui Visitors Bureau and if you're lucky, win a free vacation (yeah, right!)
Some of the nicer Hawaiian pix I've seen on the net
This could be the ULTIMATE web site for Kauai.. after my own NORTH SHORE site, of course! <grin>
Tom is a discount tour broker who handles all sorts of interesting tours and activities, mostly on Maui.
Return to HOT SPOTS INDEX or TOP OF PAGE
---


Last full link address verification for Hilton Head section: 2 Aug 2000
hiltonheadisland.com - Extensive source of online info.

Hilton Head Connections

Hilton Head OnLine

Hilton Head Coupons - save money online

The Low Country Regional info about coastal South Carolina

Hyatt Regency Hilton Head

Hilton Head Golf Planner- Interactive course info

Hilton Head - The Golf Island - Golf themed site with good general island information too.

Hilton Head National Golf Club - Course by Gary Player - one of our faves!

Shoreline Rentals - Good island info and condo/villa rentals too!
Return to HOT SPOTS INDEX or TOP OF PAGE
---
AREA-WIDE

An extensive guide to the US Southwest desert areas. Loads of information on places to go and things to do, plus a boatload of online maps, message boards, gorgeous monthly calendars, etc.
"A real find for those, like me, enthralled with the deserts of the American Southwest" - The Makai Guy

An excellent place to visit if you are interested in the natural beauty of the Colorado Plateau of Utah and Arizona. Formerly dedicated to trip reports and photos of the slot canyons in the area, Phil Hatch has recently expanded the site considerably to encompass National Parks and other scenic areas, whether or not they contain slot canyons, and some really nice links. (Don't worry - the slot canyon stuff is still there).
"This one is well worth your time" - The Makai Guy



Slickrock Gallery Nice images and Southwest resources


ARIZONA

You know, that magazine from Arizona Transportation Department with all the great desert pix? Now there's an online version!

Arizona Photographers Gallery

Arizona Information Center

Boyce Thompson Southwestern Arboretum

Arizona TravelGuide Official site of the State Office of Tourism

SEDONA, AZ isn't just a place, it's an Experience!


With all these online guides available, if you can't find what you're looking for, it's your own darn fault!


Web site by a (the?) Sedona ISP, with LOTS of information about the Sedona area.
Another good overall index for the Sedona area.
(NOTE: Could not get connection to sedonaguide.com 15 July 2001)

AreaGuide Sedona

Tlaquepaque ("Ta-LACK-a-packy")

A fine arts shopping village in a Mexican motif
We flew with these guys in June 96, and it was fantastic!
Okay, so pink is not the color you'd choose for YOUR jeep. It's still a great way to see the scenic Sedona backcountry!
Free online reservation service for hotels/motels, resorts, bed and breakfasts, recreation.




An extensive 'labor of love' with lots of great pix and info.

UTAH

An attractive site with lotsa good pix and info.
Don't miss THIS one!!!

A southern Utah server with a SUPER collection of links statewide.

Moab is a small town on the Colorado River that happens to be located in the middle of Utah's slickrock canyon country. Both Arches and Canyonlands National Parks are located here, as well as gazillions of acres of public lands administered by the Bureau of Land Management. It is a great base of operations for your visit to the Canyon Country, and has inspired some nice net sites as well:

An internet 'brochure rack' of info on the Moab region/community.

Virtual Moab

Entrada Ranch Guest ranch near Moab - good regional links

Canyonlands National Park Info from National Park Service

Arches National Park Info from National Park Service

A charming account with pictures by an eleven year old girl from Edmonton. And her Dad, Ray Rasmussen, has a nice page of canyon country info and links, too!

The Moab Home Page

The Moab Utah Official Home Page - from Moab Area Chamber of Commerce

Only lodging available near Natural Bridges National Monument. Wish I'd known about it a few years back when we about ran our van out of gas and had to go 40 miles coasting down all the hills in neutral...

OTHER

Mesa Verde Country - Southwest Colorado
Return to HOT SPOTS INDEX or TOP OF PAGE
---

British Columbia Tourism

Banff, Alberta

Banff National Park - Official ParksCanada site
Banff Townsite
Digital Banff

Bowron Lake Park and Murtle Lake - Canoeing in central British Columbia

Wish I'd known about this in my pre-arthritis days

Jasper Inn - Hotel in Jasper Nat'l Park

Moraine Lake Lodge - Worth a visit if only for the opening picture!
Return to HOT SPOTS INDEX or TOP OF PAGE
---


The Boundary Waters / Quetico area is comprised of scores of glacially scoured lakes on the U.S. (Minnesota) - Canada (Ontario) border. This area has been reserved by its respective governments as a wilderness area, set aside for exploration by canoe.

BOUNDARY WATERS CANOE AREA WILDERNESS (Minnesota)

BWCAW - National Recreation Reservation Service

Reservation service, info on permits, etc.

Steve Nguyen's Boundary Waters Canoe Area Wilderness

Good privately-maintained site with lots of information.

QUETICO PROVINCIAL PARK (Ontario)

Quetico Provincial Park - Official site maintained by Ontario Parks

Quetico Info - from the Atikokan, Ontario town site

Voyageur - Outdoor Adventure and Recreation for all of Ontario

Check out their 'Area 12' for info on Quetico outfitters, etc.
---

Welcome to Montana! - Bozeman Daily Chronicle Online

Return to HOT SPOTS INDEX or TOP OF PAGE

.. or visit my Home Page