MT. WAIALEALE

This page was selected as
The Learning Kingdom's Cool Fact of the Day for 27 Feb 98
Too bad they're no longer in business. Who'd have guessed
we'd last longer than they did?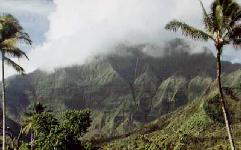 Mt. Waialeale (wy-ah-lay-ah-lay) is the high volcanic landmass comprising the center of Kaua`i. It provides a dramatic backdrop for many of the inland views on the North Shore.
As tropical tradewinds flow up and over Waialeale's slopes, the air is cooled and the moisture often condenses into a cloud cap over the highlands. With all that moisture, rain is frequent at the top, so much so that Mt. Waialeale is thought to be the wettest spot on earth, receiving well over 400 inches of rain a year.
There is actually a swamp at the top of the mountain, the Alakai, and some of its runoff feeds the prominent waterfall that can be seen tumbling down the upper reaches of the abrupt north face. There are, in fact, streams flowing down through many steep gullies on the cliff face. Most of them are small and hard to see at a distance, but after a heavy rain on the mountain, the number of waterfalls you see leaping off the precipices can be truly astonishing!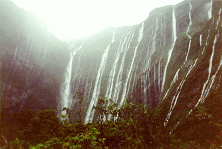 Another astounding view is available on a rainy day when many streams fall down the steep walls of Olokele Canyon, also known as the "Blue Hole". This area is not readily accessible by road but is often visited by helicopter tours. Olokele Canyon is often also referred to as Waialeale Crater, although geologists are quick to point out that this is just a steeply eroded valley, not an actual volcanic vent. (Photo courtesy of Air Kauai helicopter tour service.)


The Makai Guy's North Shore Kauai website maintained by Doug Wilson, MakaiGuy@iName.com Page revised: 27 Sept 2008
Unless otherwise noted, text and images © Copyright F.D.Wilson, all rights reserved.